Reading Time:
6
minutes
Are you dissatisfied with your timeshare ownership? It's not unusual. In fact, between 2016 and 2022, interest in getting out of agreements has tripled. Learn more about the state of timeshare ownership below.
Wesley Financial Group, LLC polled hundreds of timeshare owners, asking about their buying and ownership experiences, and the results were resounding. In fact, 100% of respondents who felt misled during the timeshare presentation and purchase experience reported the same 5 lies being told to them. Wesley Financial is dedicated to supporting and helping exactly the kinds of folks who have been victimized by these timeshare sales techniques.
3 Ordinary Timeshare Industry Concerns
Many timeshare owners went into their purchases with great expectations. They perhaps even hoped to gain profits from renting their property. But reality all too often turns out to fall short.
Many owners discover that their timeshare company charged fees that weren't listed on the original agreement, or they overlooked maintenance fees. And that may not be the only omission as you compare the less-than-scrutable timeshare marketing techniques. As time goes by, you may also wonder why the cost of items, such as utilities, increases so much.
Learn more about The State of Timeshare Ownership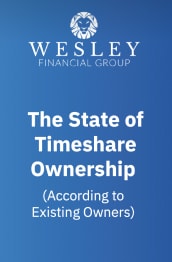 Some owners are disappointed in the upkeep. After all, they pay the maintenance fees while the amenities and facilities do not live up to their promise. You may also have complaints about the co-owners. If you bought a timeshare with the hopes of renting it when you won't use it, you may have learned that finding renters is challenging. And switching your time may be so complicated that you don't use the property.
Then there comes the question of resale value, which tends not to have a rosy outlook, either. Speaking on the issue as it relates to assets in a divorce, RDK Legal writes, "A timeshare, neither being a fixed asset or a debt whose equity can be offset by a mortgage 'pay off' amount, has no real ascertainable value in the eyes of most Illinois divorce courts."
1. Most Timeshare Owners Feel Misled About Shared Vacation Ownership
Did you understand your timeshare agreement when you signed it? Most timeshare owners don't fathom the consequences. And it's not their mistake. Deceit is a common part of timeshare sales tactics, and scams are rampant. That's why 71% of timeshare owners feel they were misinformed during their purchase.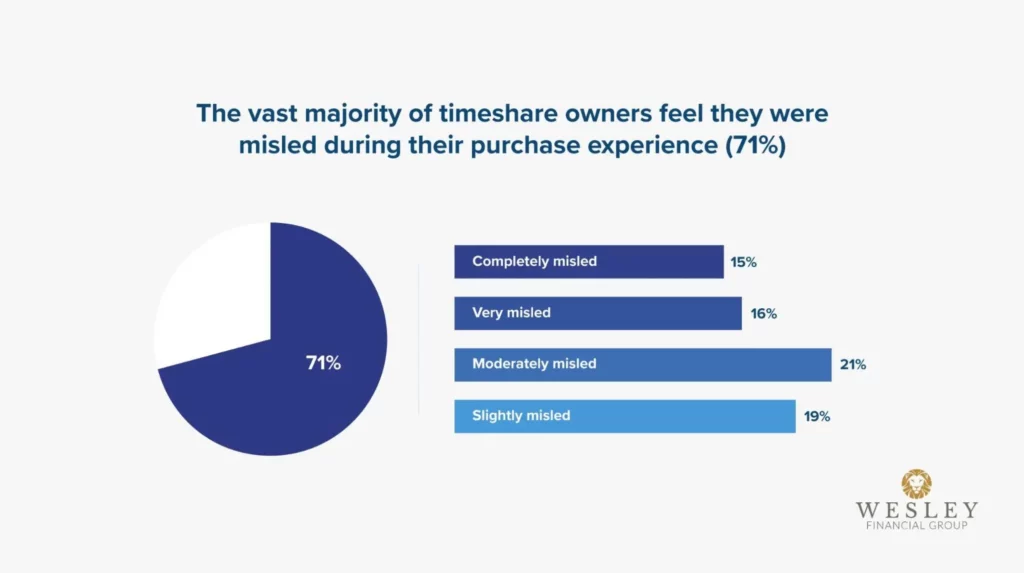 Many owners believed the investment value of the property was far greater. The timeshare company didn't disclose the difficulties of booking a timeshare or canceling the agreement. Overall, timeshare owners were told one thing — and then they signed an agreement that detailed something else.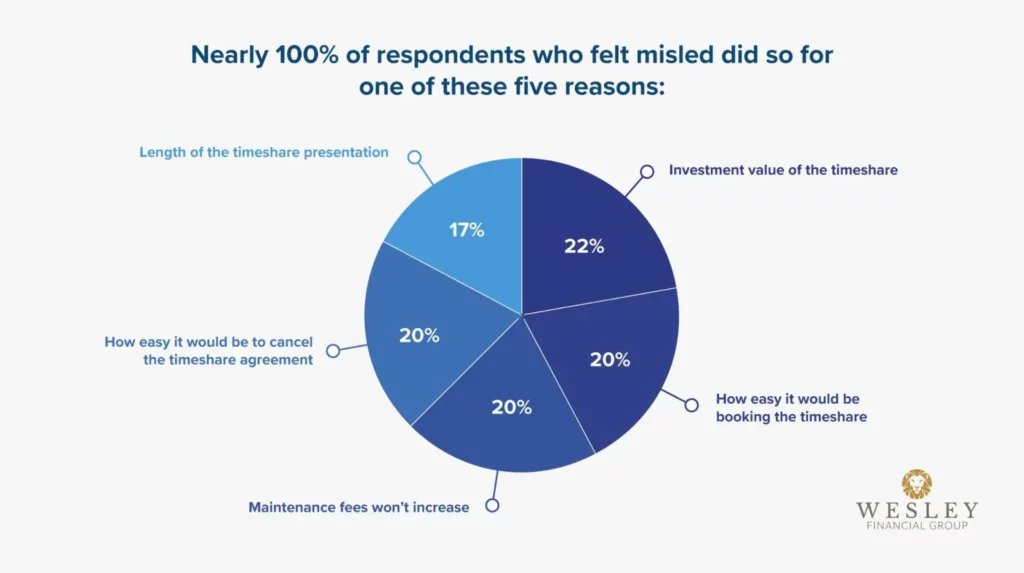 2. Most Folks Owning a Timeshare Want to Cancel Their Agreement
The day you sign the timeshare agreement can be exciting. But soon after, 85% of owners regret their timeshare purchase and want to cancel.
For many, timeshare ownership is expensive. Owners also express frustration that they can't use their timeshare when they want to, and some never use it at all despite the money poured into it.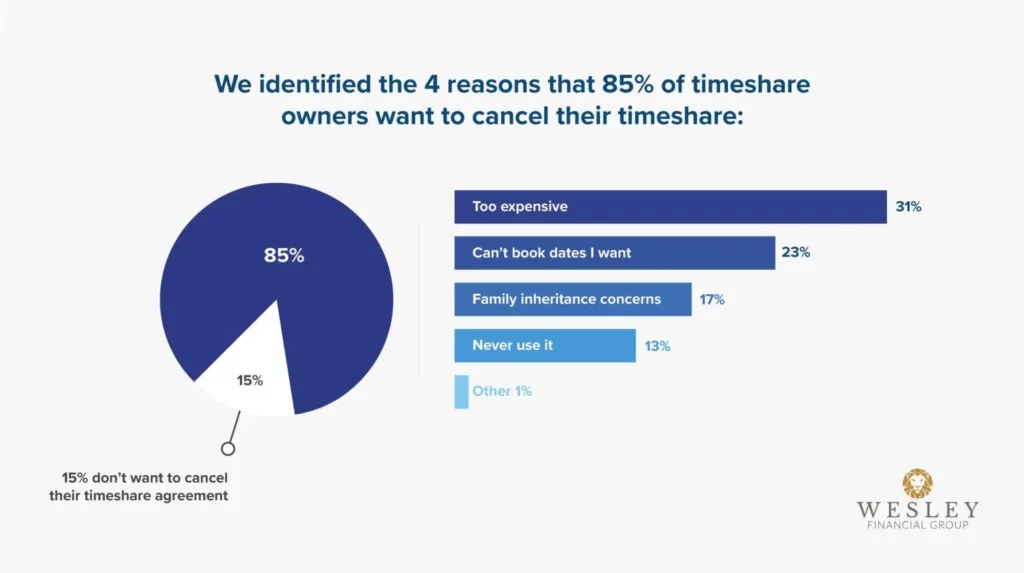 While many people may believe they can't cancel their timeshare agreements, 27% have discovered that it is possible and are involved in the process.
3. Many Timeshare Buyers Are Unaware State Laws Allow Owners to Cancel
Almost every state allows timeshare owners to cancel their agreement under certain circumstances and within defined time frames. In some states, you even have the right to cancel if you're never provided with a written statement outlining your rights. Consumer protection laws also offer remedies if the timeshare company used deception in getting you to sign the agreement. But almost half of all timeshare owners — 46% — don't know that state laws may provide them with some support.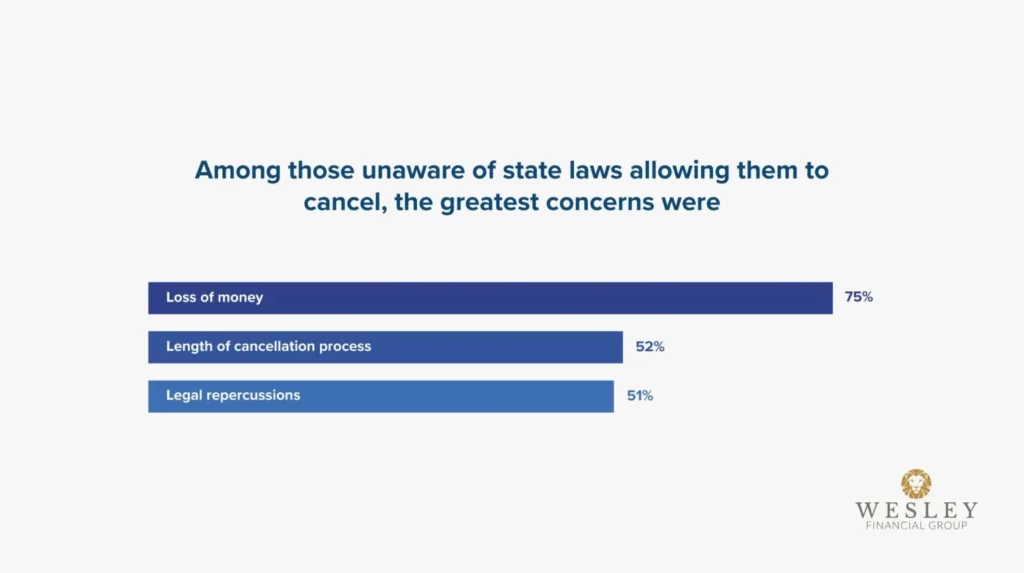 Why Should You Cancel Your Timeshare?
An investment without a return can be frustrating. Whether the unending maintenance fees or the fact that you never use your property, regretting your timeshare purchase isn't the only consequence — you're going to want to stop the outflow of cash.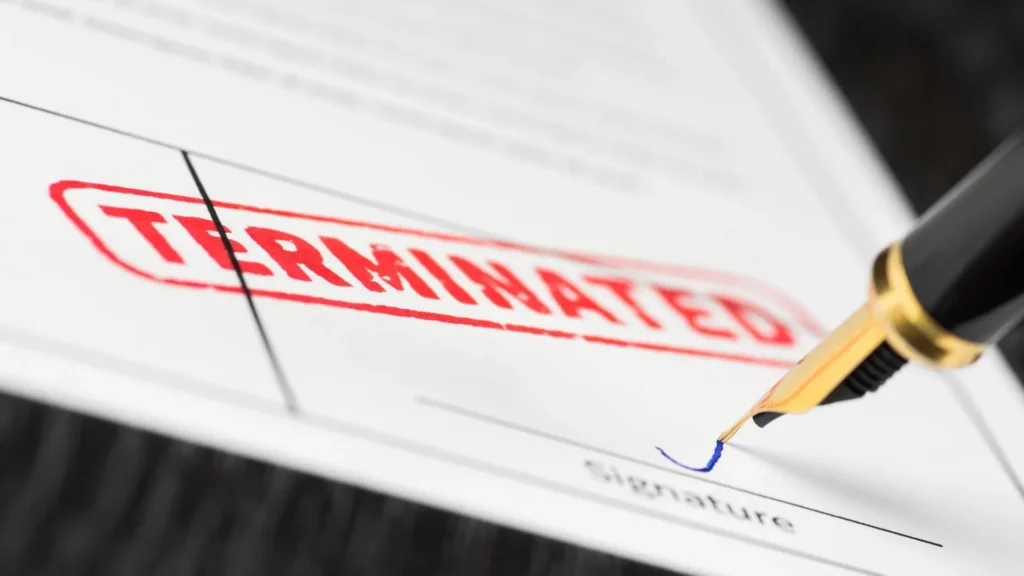 Canceling a Timeshare Agreement Is the Cheaper Option
You're likely to save thousands of dollars in maintenance costs alone when you cancel the agreement. As the National Association of Attorneys General points out, the average timeshare maintenance fee in 2018 was about $980. Since maintenance fees go up around 5% per year, in 30 years, you would have spent about $64,000 on those fees alone.
That's even before the interest. Interest rates for timeshare purchases hit almost 14%, which is high. Based on the average timeshare cost of $24,140, by the end of a typical 101-month loan, you have paid more than $14,000 in interest.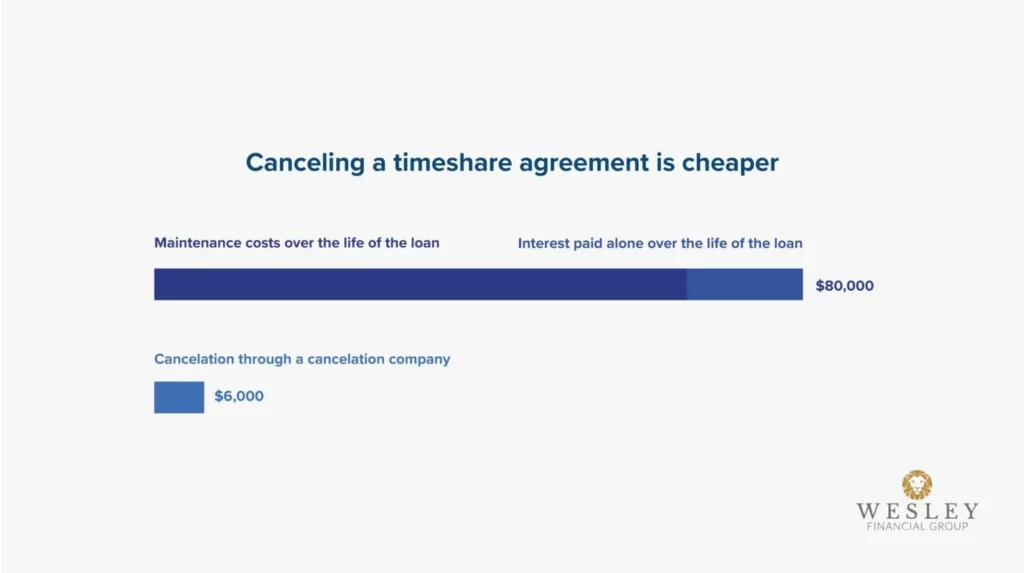 The Cancellation Process, While Complex, is Shorter Than the Timeshare Agreement
On average, expect the cancellation process to take eight to 18 months — although if you start while in your rescission period, it will be faster. In contrast, the average duration of a leased timeshare agreement can run from 20 to 99 years.
For Many Timeshare Owners, the Law Is on Your Side
If you've just entered into an agreement, you may still be in the rescission period. All states provide 3 to 15 days, during which you're allowed to rescind your timeshare purchase with no penalty.
On top of that, 48 states also offer protections for timeshare purchasers, making it possible to get out of the agreement in many cases. These states require timeshare vendors to disclose certain information through a statement or public offering statement. State laws can require disclosures regarding the right to cancel. Sellers must also disclose all details about their promotions, including gift awards, lodging certificates, and sweepstakes. Sellers in some states must have a real estate license, and they must place funds into an escrow account until the purchase closes. They cannot make fraudulent, misleading, or false statements, including in advertisements.
If a timeshare vendor doesn't abide by all their state's laws, as detailed above, the timeshare owner may have grounds for cancellation.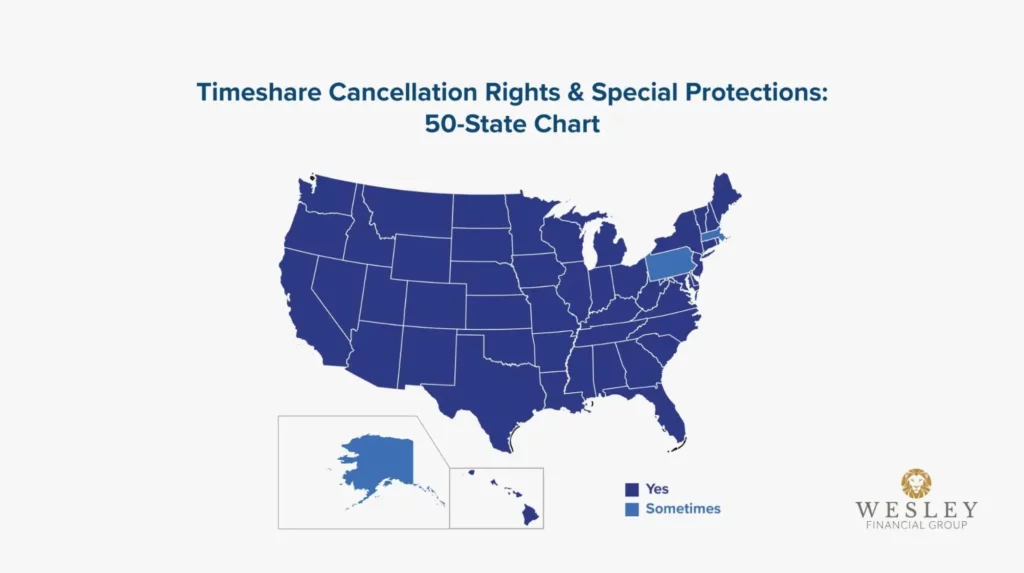 How Do You Cancel a Timeshare?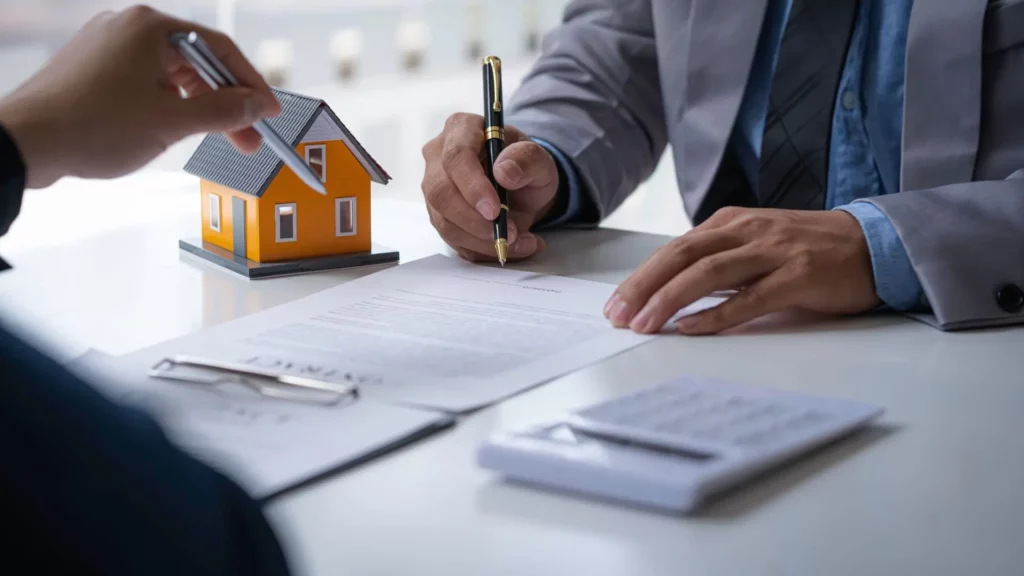 Luckily, most states do have laws regarding timeshare consumer protection. The simplest way to cancel a timeshare is during the rescission period, which most states mandate. During that time, you should get your entire deposit back if you file a formal cancellation notice with the seller. Act fast since the rescission period might be just a few days. Each state has a different requirement regarding the length, which should also be clarified in the timeshare agreement.
Regardless of the timeshare cancellation timeline, it must be in writing. If you miss the end of the rescission period, you still have options, like using a trusted timeshare exit company.
If you're wondering where to start, consult our guide on how to write a timeshare cancellation letter.
Contact a Timeshare Exit Company Such As Wesley Financial Group*
Canceling a timeshare agreement is complex. It becomes easier working with a dedicated timeshare exit company, such as Wesley Financial Group, LLC.* More than 40% of timeshare owners who are in the midst of the cancellation process collaborate with a cancellation company like Wesley Financial Group, and another 46% say they would consider doing so. Only 9% proceed without the assistance of a cancellation company.
Wesley Financial Group is one of the pioneers in the timeshare exit industry. As a full-service timeshare cancellation company, Wesley has helped more than 30,000 families escape from their burdens, saving them almost $450 million. We have years of experience helping timeshare owners who were lied to or misled in their purchases. Do you need to get out of a timeshare? Contact us today to learn more about how to get started on the process.