Reading Time:
4
minutes
At Wesley Financial Group, LLC ("WFG"), we've always believed that our people are our greatest asset. Their dedication, passion, and hard work have been the driving force behind our success in helping thousands of families find relief from timeshare nightmares. We're thrilled to announce that our commitment to creating an exceptional workplace culture has been recognized, as we have recently been certified as a Great Place to Work for a third year!
What Does the Great Place To Work Certification Mean?
The Great Place to Work Certification is a prestigious recognition acknowledging organizations with outstanding workplace cultures. With the help of its proprietary model, the Great Place To Work Institute provides unmatched market data and benchmarking, as well as cutting-edge research and insights. It is a game-changer for companies looking to attract and keep the best talent, boost productivity, build a stellar reputation, and gain invaluable insights into their unique workplace culture. 
This certification is awarded based on direct feedback from employees, who share their thoughts and experiences through anonymous surveys. Achieving this reflects our employees' trust, pride, and camaraderie in being a part of Wesley Financial Group.
Our Journey to Excellence
Earning this certification was not an overnight achievement. It's the result of years of hard work and a commitment to fostering a positive work environment. We've always strived to create a workplace where our employees feel valued, supported, and motivated to excel. Here's how we did it: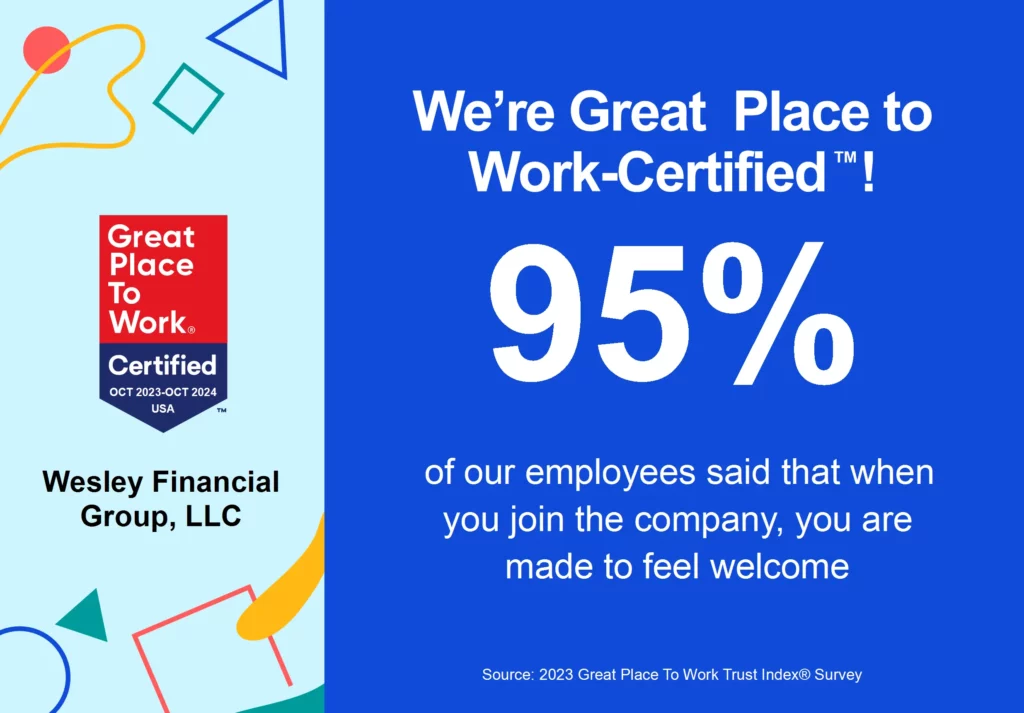 1. A Culture of Inclusivity
We believe that diversity is our strength. Our company is a melting pot of talent from various backgrounds, and we celebrate these differences. We've worked tirelessly to ensure that every employee feels included and respected, regardless of race, gender, age, or background.
95% of WFG employees said, "When you join the company, you are made to feel welcome."
2. Employee Development
We understand that our employees are our future leaders. To empower them, we've invested in training and development programs that help them grow both professionally and personally. We provide ongoing learning opportunities, mentorship programs, and career advancement pathways.
94% of WFG employees said, "I am given the resources and equipment to do my job."
3. Open Communication
Effective communication is the cornerstone of a thriving workplace. We've implemented transparent communication channels to ensure our employees are always informed about the company's goals, achievements, and challenges. We actively seek their input and feedback to improve our process continuously.
94% of WFG employees said, "I feel good about the ways we contribute to the community."
4. Work-Life Balance
We value work-life balance and prioritize our employees' well-being. We offer flexible work schedules, remote work options, and wellness programs to help our team achieve harmony between their professional and personal lives.
95% of WFG employees said, "I am able to take time off from work when I think it's necessary."
5. Recognition and Appreciation
We understand the importance of recognizing and appreciating our employees' hard work. Through various recognition programs, we acknowledge their contributions and celebrate their achievements. Their success is our success.
94% of WFG employees said, "People celebrate special events around here."
The Wesley Financial Group Difference
Our Great Place to Work Certification isn't just a badge on our website; it's a reflection of our unwavering commitment to our employees and our mission. It's a testament to the extraordinary people who make up Wesley Financial Group, from our dedicated customer service representatives to our skilled legal team and everyone in between.
But our journey doesn't stop here. We continually strive to enhance our workplace culture and provide even more opportunities for growth, learning, and collaboration. We believe that by investing in our people, we can continue to make a positive impact on the lives of our clients and their families.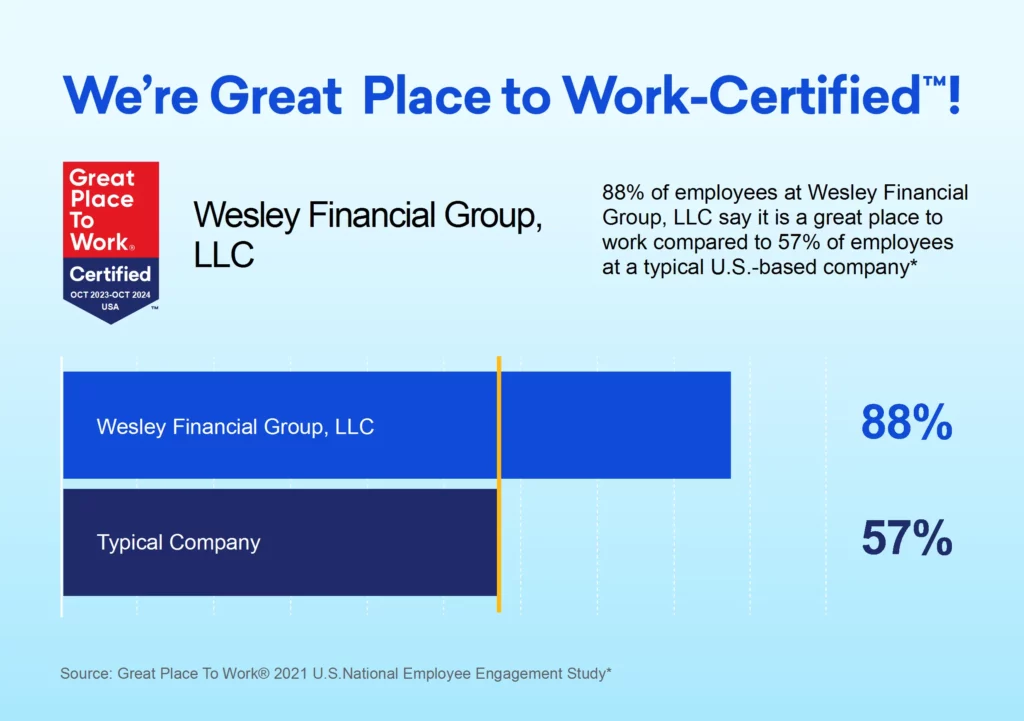 Join Our Team
If you want to be a part of a dynamic, inclusive, and innovative team dedicated to making a difference, we invite you to explore career opportunities at Wesley Financial Group. Our Great Place to Work certification is not just an accolade; it's a promise to our employees and our clients that we are committed to excellence in all that we do.
Conclusion
Earning the Great Place to Work certification is a proud moment for Wesley Financial Group. It reinforces our belief that our employees are our greatest asset and affirms our dedication to fostering a positive and supportive workplace culture. We are grateful to our exceptional team for their hard work and commitment, and we are excited to continue our journey toward excellence together.
Thank you to Great Place to Work Institute for this incredible honor and to our employees for making Wesley Financial Group the great place it is today!
About Wesley Financial Group
Wesley Financial Group, LLC (WFG), a leader in timeshare cancellations, has helped over 30,000 families rid themselves of millions in timeshare debt since its founding in 2011. That represents a savings of over $450 million in timeshare mortgage debt. The company has differentiated itself from others in the timeshare cancellation industry by utilizing a vetting process to ensure it can relieve clients of their timeshare before they are accepted. WFG is so confident in its process that it offers a money-back guarantee if it cannot free clients from their timeshare agreements within a mutually agreed-upon timeline. Schedule a free consultation to learn more.
About Great Place To Work
Great Place To Work is a globally recognized organization dedicated to helping companies create exceptional workplace cultures. With a rich history dating back to 1992, they have pioneered the concept of workplace trust and employee engagement. Great Place To Work conducts extensive research and assessments to identify and celebrate organizations that foster trust, camaraderie, and innovation among their employees. Their renowned certification program and annual rankings showcase the best workplaces worldwide, providing valuable insights and inspiration for businesses striving to improve employee satisfaction, productivity, and retention. Great Place To Work's mission is to empower organizations to build environments where employees thrive and businesses succeed.